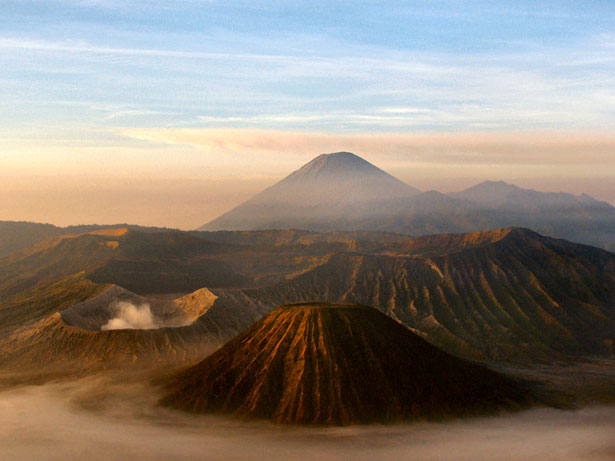 Mount Bromo in Java, Indonesia.
Indonesia plans to move to a single time zone on October 28th 2012, which will be GMT+8, said the country's trade ministry in a statement on Wednesday. Currently the nation is divided into three time zones. Jakarta in the westernmost time zone is GMT+7, Denpasar in the central time zone is GMT+8 and Jayapura in the eastern most time zone is GMT+9. After the time change Indonesia will have the same time with Singapore, Malaysia and Philippines.
By moving into one time zone will create huge savings according to economists, since the whole nation is then following one time zone. The office hours will be the same in Jakarta as well as in the cities in the eastern most part of Indonesia. Anton Gunawan, the chief economist at Bank Danamon Indonesia said that the benefits will be synchronized trade and financial transaction in the regional markets.
Trade Minister Gita Wirjawan said in the announcement in Jakarta, that the time change will boost the economic development of the country. At the moment the Jakarta Stock Exchange (JSX) opens 90 minutes later than the stock exchanges in Malaysia and in Singapore. After the time change it will open only 30 minutes later.
Aviliani, an economist at the Institute for Development of Economics and Finance said that the time change will be good for Indonesia. "It will make Indonesia's financial market more integrated with other markets in the region like Hong Kong and Singapore, it will increase the flow of exports and imports and cooperation between different regional governments," said Aviliani.
When our time zone is the same as our neighboring countries, then we could save substantially in terms of working hours, traffic and economic activity, said Hatta Rajasa, the chief economics minister. Also the Indonesian companies which are trading with China, Hong Kong and Taiwan will benefit from the time change, since after the time change will Indonesia be in the same time zone with them.