Time News in 2012
Recent news related to time, time zone and daylight saving time
Jordan to remain in summer time throughout the coming winter
Published: 26th Oct 2012, 09:55 GMT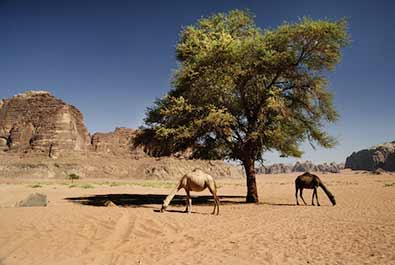 Camels in Jordan.
Jordanians were pondering on Thursday whether the government's decision to stay in daylight saving time (GMT+3) also during the winter months were a good idea.

Some felt the decision was good since this way there will be more sunlight during winter afternoons. Others felt the opposite complaining that the morning sun will be up an hour later, meaning that their children will be walking to school when it is still dark.

The decision, which according to an energy expert will decrease energy consumption, caused confusion among the public, especially those who's flight ticket has the departure time in winter time.

Samih Maaytah, the Minister of State for Media Affairs and Communications, told that the government had coordinated with Royal Jordanian and other airlines before the decision was issued.

Royal Jordanian called to its passengers who will be travelling between October 26, 2012 and March 30, 2013 to add extra hour to the departure time from Jordan on their tickets.

On October 14, the cabinet issued instructions that the clocks should be set back for one hour for standard time on Friday October 26, 2012. But on Wednesday October 24, the decision was altered the Kingdom to follow daylight saving time throughout winter months instead of switching to winter time.