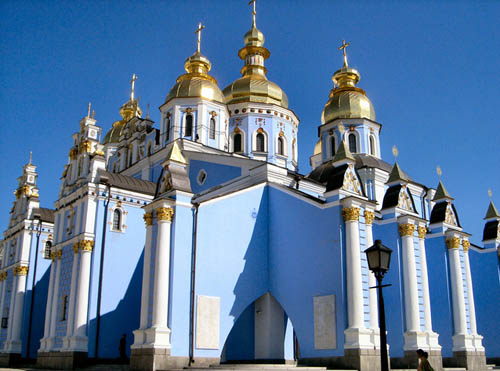 St. Michael's Golden-Domed Monastery in Kiev, Ukraine.
Minister of Emergency Situations, Viktor Baloha, stated that scientists and the prime minister Mykola Azarov calculated that Ukraine should adopt UTC+2 time zone also for summer months. This plan will form the basis of the bill that will be prepared and sent to the parliament for a vote.
Furthermore, Ukraine will host the European Football Championship this summer, therefore scientists have recommended Ukraine to follow summer time this year for the convenience of foreigners. And in 2013 and onwards to follow standard time also through summers, which means that no clock adjustments are needed in springs and autumns.
Prime minister Azarov has earlier stated the importance for Ukraine to adopt a fixed time that should correspond to the UTC+2 time zone.